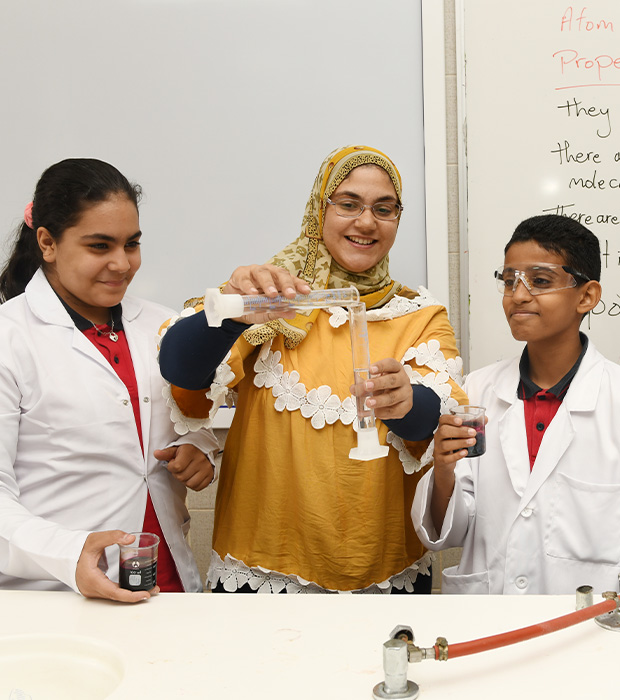 Secondary School
Welcome Message from the Head
I am delighted to welcome you all to our secondary school at MILS, where we help our students take very confident steps towards their after-school and career success.

Building on my background as an ICT teacher for IGCSE students, besides more than 15 years of experience as an educator, Deputy Head and Head of Stage in national and international curricula' in KSA and Egypt, I am excited to work with secondary students at such an exciting phase of implementation of the new educational system and the rise of character-building education. I strongly believe in Martin Luther Kings Jr.'s "Intelligence plus character, that is the goal of true education"

With the support of our integrated curriculum, advanced learning technologies and unique approach, we aim at focusing on the following goals for our students to maximize the benefits of the new educational system:


Encourage the students to play a positive role in their communities inside and outside the school.

Equip students with tools, skills and practical experiences to help them live effectively in our modern age of science and technology.

Inspire students with a desire for self-improvement and achievement of excellence.
Myself and MILS secondary school's team are committed not to save any effort to unleash our students' potential and enable them to grow as confident leaders making us all proud.

I look forward to working with you as a team to help each student at MILS meet their goals and have a successful school year, and I always welcome your input

Faten Massoud
Head of Secondary Stage


Curriculum Overview - Secondary
The new system in secondary stage is fully aligned with all international standards for secondary stage which are;
Skills-based education enabled through digital learning via a variety of online resources.

Transforming students from passive recipients into active participants during the educational process over the three years.

Teaching concepts not topics, to master future sought-after skills [Text Wrapping Break]( Collaboration - Creativity - Communication - Critical Thinking).
This final stage of school education runs through grade 10 to grade 12. It is the phase that students consider their preferences and prerequisites for university entries.

During grade 10 students study a wide range of subjects including: Arabic, First foreign language, Second foreign language, Maths, Geography, History, Philosophy, Physics, Chemistry, Biology, Religion, Civics and ICT.

During grade 11 and 12 students study 3 obligatory subjects: Arabic, First Foreign Language and Second Foreign Language while the rest of their subjects depend upon the selected section. They are required to choose between Maths or Science or Arts Section.

A student who prefers the Arts Section will study History, Geography, Philosophy and Sociology as part of that.

For Students who choose the Science Section they will study Physics, Chemistry, Biology and Geology. Students who join the Maths Section cover Physics, Chemistry, Statics and Dynamics, Algebra, Solid Geometry, as well as Differentiation and Integration.

Religion and Civics are also compulsory subjects but they are not added up to the students GPA.