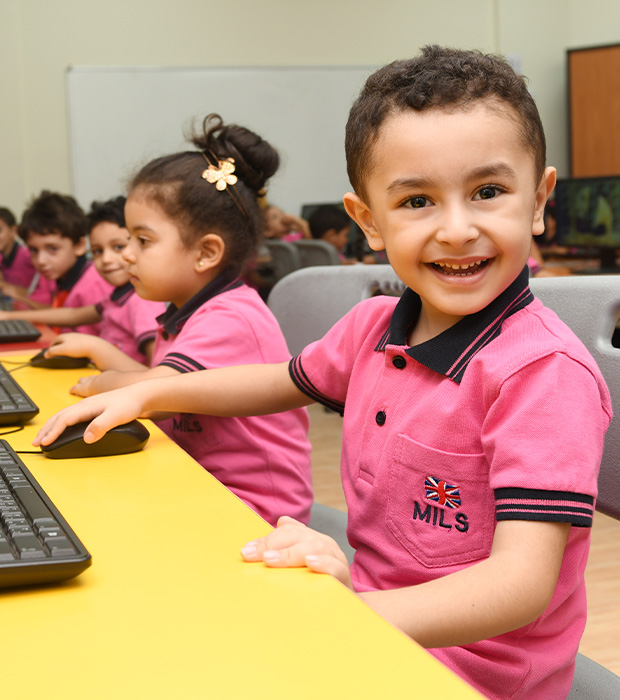 Why MILS?
National Curriculum, aligned with international standards
All our core subjects are aligned with international curricula's standards across grades. We are also committed to creating a quality learning environment where we utilize a modern teaching approach, advanced educational tools and technology integration via exclusive learning platforms and top-of-range digital resources and applications, international benchmark exams experience and upgraded skills-based learning.
Our students enjoy access to STEM learning and hands-on discoveries, equipping them for competitive future choices and career success.
School-Home Partnership
The collaboration between parents and the school constitutes the foundation in supporting children and building a solid foundation for learning. Parents' satisfaction and close communication improves children's academic achievement, work habits, social skills, and emotional well-being. Discipline and routine are also gained.
A very special partnership is maintained at MILS where parents are our best advocates. They are encouraged to share their ideas, voice concerns, actively participate, provide community feedback, and contribute to our best memories.
We strive to maximize our parents' engagement in their children's development through Parent Workshops, Family Events and diverse open communication channels.
Qualified Passionate Teachers
Excellent quality education is delivered by an outstanding team of highly experienced and dedicated teachers. Selection of the best Language proficient instructors in addition to consistent practices, ensures students are given the opportunities to reach the best potential while making their learning journey a memorable one each day.
Balanced Student Life
Engaging our students via a wide range of facilities and equipment to serve their growing needs and develop their passion for lifelong learning, education, innovation, and technology, allowing them to; understand, interact, and impact global society. In addition, indoor and outdoor courts and playing areas are available for healthy progression.
Appreciating students and celebrating their achievements is to motivate and recognize all talented, athletic, and academic achievers through honoring and rewarding schemes.
Brighter Future as a Prime International Language Schools
MILS is now one of the first National Curriculum schools to be part of GEMS Education global network of schools, and the Prime International Language Schools stream under EEP- The leading Education Platform in Egypt, giving it an edge with inter-schools happenings and international outreach to excellent educational and extracurricular services. Our students will now have an opportunity to benefit from the diverse list of development opportunities throughout their school years, network of universities both nationally and internationally and networking opportunities once graduated. We can confidently claim that we are a national school with a regional and global outlook.