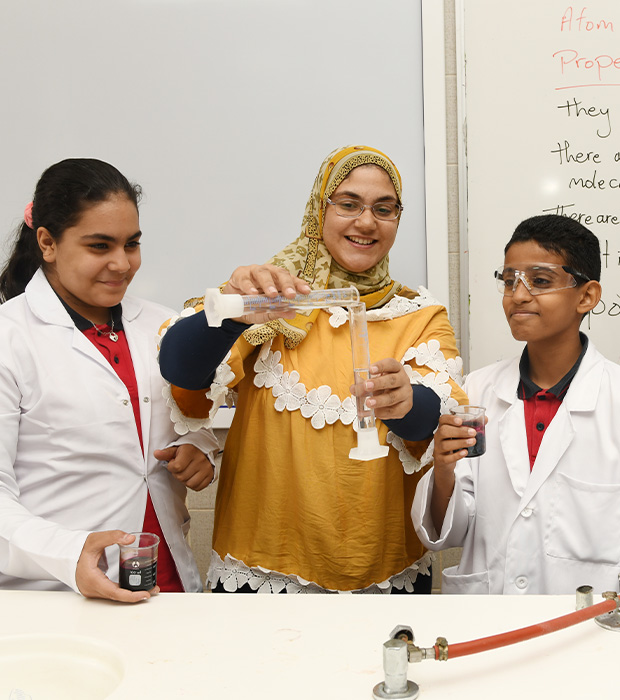 Preparatory and Secondary Sections
Welcome Message from the Head
It is with great pride and excitement that I write this welcome letter of introduction to you. I am honoured to have the opportunity to lead the preparatory and secondary school with such a rich tradition of education. I am excited and eager to bring my skills as an educational leader to MILS Schools and work with you as a partner in education to ensure your child's success.
Along with the teachers and staff, I will work hard to continue the legacy of success established by MILS, by building strong relationships with parents, students and community partners. We will focus on character education initiatives, common core skills, the use of data to drive instruction, and to provide consistent implementation of the curriculum in a rigorous manner so that we can continue to enhance our students skills.
Being the head of preparatory and secondary school, it is important for me that everyone who steps through our doors including teachers, students and parents, is excited to be here. This attitude enables us to meet the challenges of academic excellence in a positive, fun, and nurturing environment.
I look forward to working with you as a team to help each student at MILS meet their goals and have a successful school year, and I always welcome your input.
Mr. Abdellatif Nomeir
Preparatory and Secondary Stages
Curriculum Overview
Our curriculum is the Egyptian National Curriculum, and we follow the framework that has been put by the Ministry of Education. This curriculum is multidisciplinary and emphasises the unity of all subjects avoiding repetition. At MILS we teach our students Math, Science, History, Geography, Art and Music, Arabic and Social Studies amongst other subjects as well. Being a language school, we put a huge emphasis on English language to successfully accomplish our learning objectives.
Preparatory Section
Middle school is a very critical phase in a young teenager's social and emotional development. A deeper understanding is required from the educator's part in collaboration with the parents and the students themselves. At MILS, we embrace our students for what they are and work on how we want them to be. We promote engagement with peers, teachers and heads through different competitions, team projects, entertainment and field trips. Participating in community service projects through paying visits to hospitals and orphanages and special needs organisations and gathering donations, enhances their citizenship and cultural awareness. We take the well-being of our students to our heart and believe that it ensures smooth academic progress.
The Egyptian National Curriculum is a rich and broad curriculum which requires experienced, qualified teachers to deliver efficiently. English and French high level instruction covers all aspects of the language including literature study; Drama, Novel and Poetry in depth. Students are now expected to be fluent in foreign languages in addition to their own mother tongue. The differentiation now between the three branches of General Science is evident. Similarly, the Social Studies curriculum becomes more elaborate. Students at this phase can identify their preferences and make plans for their future studies in Secondary Stage. By the end of this stage students sit for ministerial exams which are set and marked externally.
Secondary Section
This final stage of school education runs through grade 10 to grade 12. It is the phase that students consider their preferences and prerequisites for university entries.
During grade 10 students study a wide range of subjects including: Arabic, First foreign language, Second foreign language, Maths, Geography, History, Philosophy, Physics, Chemistry, Biology, Religion, Civics and ICT.
During grade 11 and 12 students study 3 obligatory subjects: Arabic, First Foreign Language and Second Foreign Language while the rest of their subjects depend upon the selected section. They are required to choose between Maths or Science or Arts Section.
A student who prefers the Arts Section will study History, Geography, Philosophy and Sociology as part of that.
For Students who choose the Science Section they will study Physics, Chemistry, Biology and Geology. Students who join the Maths Section cover Physics, Chemistry, Statics and Dynamics, Algebra, Solid Geometry, as well as Differentiation and Integration.
Religion and Civics are also compulsory subjects but they are not added up to the students GPA.
The current Minister of Education is undergoing several changes to upgrade the education practices in all age groups.